An original space for relaxing and friendly moments
Lying on the mattress or seating on the cushions, you can spend time in the heart of the garden or by the pool. The space can be personalized using the large deck and the shelf along the barriers. At any time of the day or night, the wide overhanging roof will provide shade or protection against the freshness of the night…
The frame is made with solid teak wood, it has a Mediterranean style permanent waterproof roofing that can resist to most of weather conditions. Removable slipcovers are made with white Sunbrella® fabrics, additional options are available.
Frame 253 x 178 x 295 cm
Standard equipment:
1 mattress 229 x 155 x 15 cm ; 6 square cushions 60 x 60 cm ; 4 square cushions 40 x 40 cm ; 2 round cushions Ø 25 cm x 155 cm – removable covers – White Sunbrella® fabrics
1 set of roof covers
1 inside protective cover
Options :
Fabrics from complete Sunbrella® range
Set of curtains: teak rods and set of 8 Sunbrella® curtains
Inside lighting – Electric system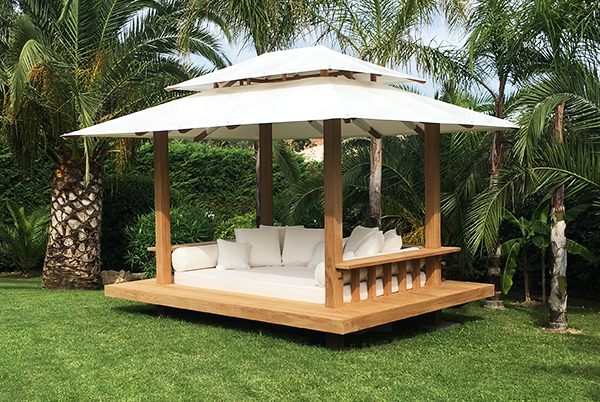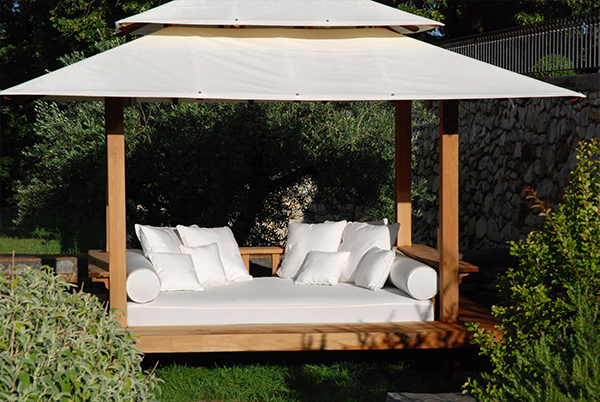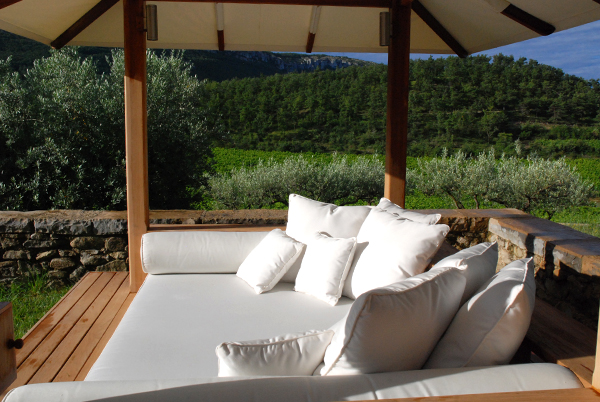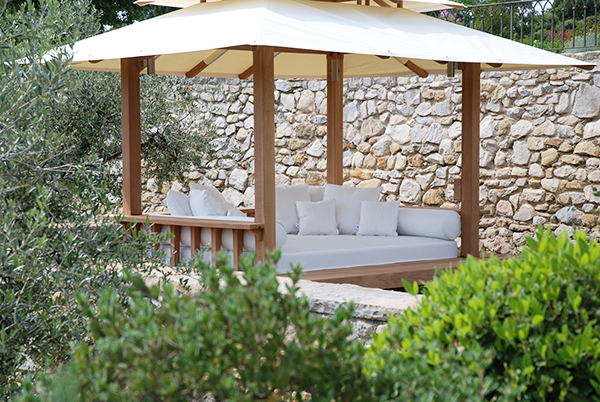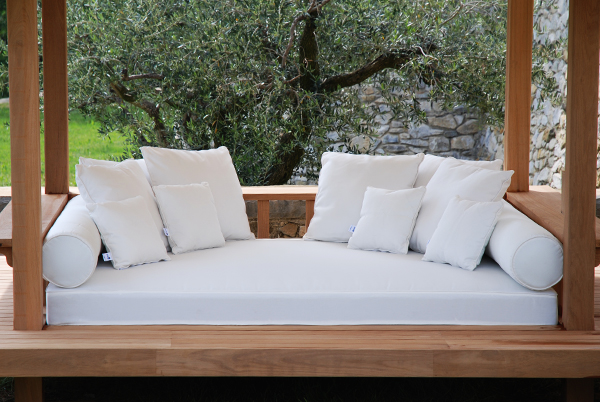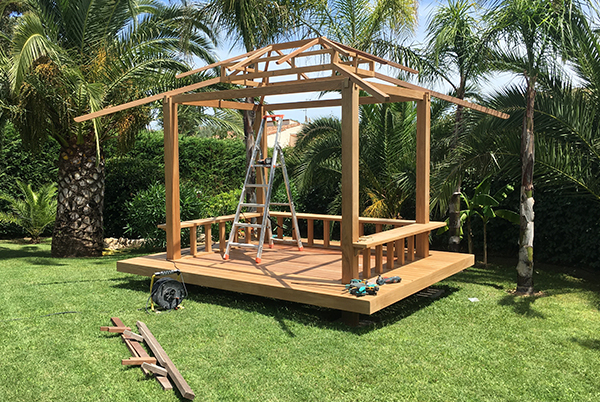 In contemporary outdoor daybed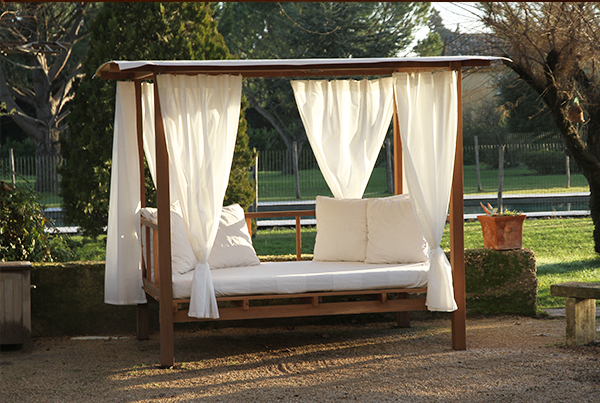 With a contemporary design, it offers an original and comfortable relaxing place for two people.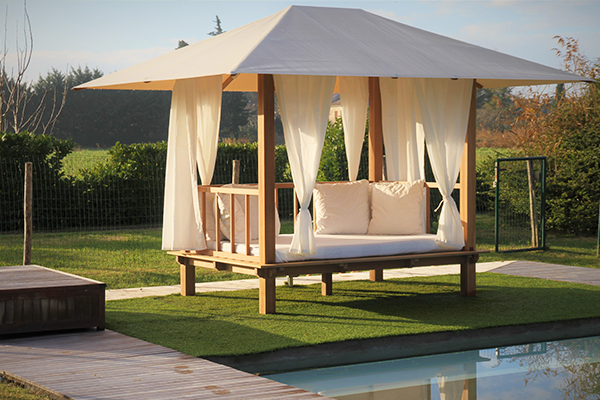 With a large roof, this daybed offers to create a charming and comfortable space in the garden.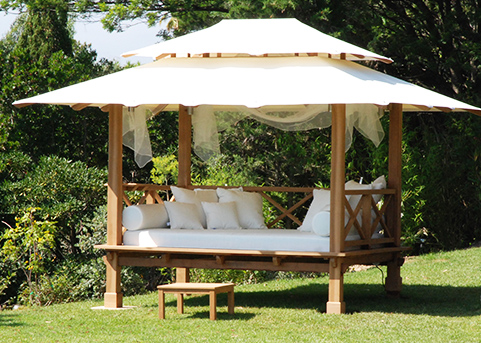 This amazing piece of furniture allows to create a beautiful and relaxing space…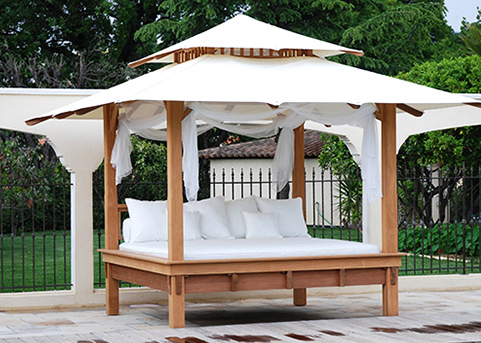 With your partner or alone, you are embracing a wide panorama on the environment…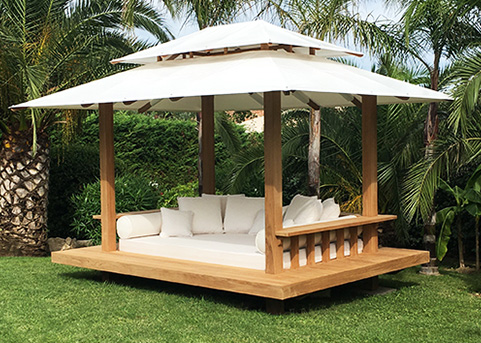 Lying on the mattress or seating on the cushions, you can spend time in the heart of the garden or by the pool.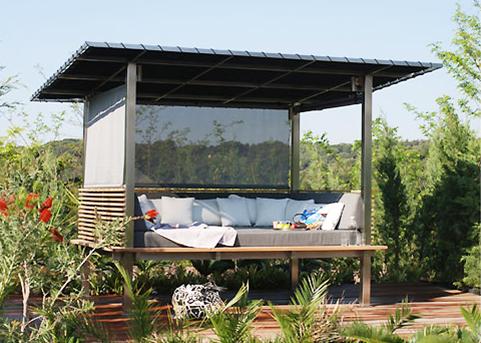 The elegant combination of teak, stainless steel and technical fabrics...